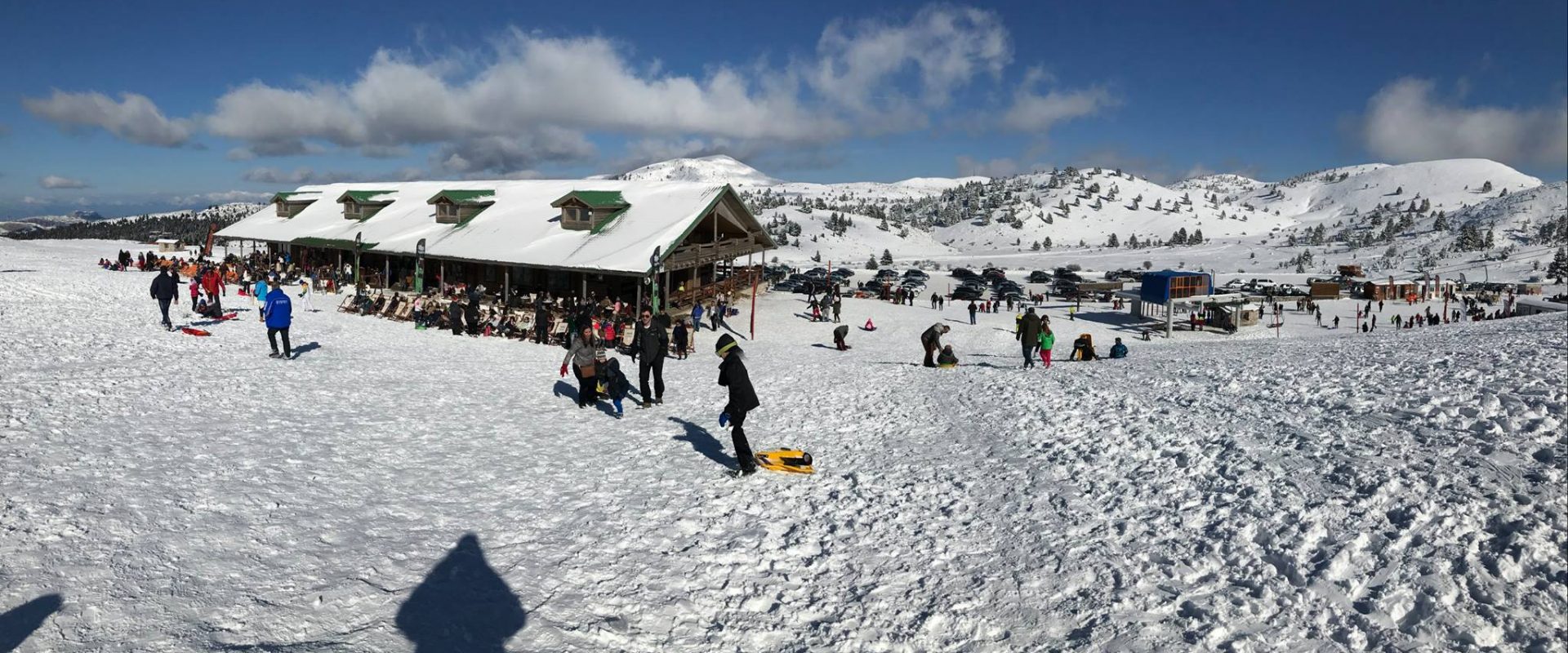 Activities
Ski Center
The ski center began operating in 1988. It is located in Xirokampos, 14 kilometers from the city of Kalavryta. The mountainous place has been developed thanks to the snow-capped slopes of Helmos, a large area of which is covered with fir.
The Ski Center is located on the north side of Helmos at an altitude of 1650-2340 meters.
The ski center is equipped with seven lifts with a total portability of 5,000 persons per hour, serving 12 runs of all ski levels measuring 20 km in length. It also has cross country ski trails, ski mountaineering paths, as well as trekking and mountaineering paths. There are three buildings hosting skiers and visitors wishing to relax, drink coffee or have a meal. There are spacious parking spaces, whereas the ski station is also equipped with a first aid station, shops, ski rental equipment and ski school. The Ski Center is open daily during winter season, which lasts from mid-December to late April. The visitors of the resort reach 100,000 during winter season, whereas most of them are young and of all skiing levels.
Trekking-Climbing
As a visitor of Kalavryta you will not be able to resist the temptation to walk across idyllic landscapes where the climate is extremely healthy. You will be enchanted by the wild beauty which will also be beneficial for your health. Hikers and climbers either experienced or novice, will find paths in the mountains of Kalavryta, being full of legends, beauty and pleasant obstacles for those who enjoy difficult climbs. The visitors may climb from the village Kertezi to the summit called "Tris Gynekes" (1795m.), following a ravine that leads to the ridge and the summit in about 2 ½ hours.
Paragliding
Whether in terms of amateurism or championship, flights in the skies of Kalavryta have been enchanting more and more people within the last years. The gliders take off from the Ski Center, from the antennae location, intending to land either in the Valley of Loussi, or in Kalavryta & the National Regeneration Memorial. So if you want to enjoy paragliding do not hesitate to visit the mountains of Kalavryta and enjoy such an experience.
Kayak-Rafting-Biking
Ladon River, though considered as one of the most difficult rivers to raft in Greece, is suitable for beginners, since there are experienced instructors of the Navy Sports Club of Daphne, ensuring a safe descent. Combined with the exciting wilderness this area is one of the most ideal places for kayaking and rafting. The areas in Ladon River and Lake Ladonas are also convenient for Biking. The Beauty of Nature will be a rewarding gift for you and shall reassure your choice for exploring the surrounding area of Kalavryta.